GEAR LIST AND DO's AND DON'Ts FOR
THE GOQ
ii

TRAIL CHALLENGE
Daypack (30L) and a small day pack (10 or 15 L for the Trail Challenge) [30L = Size of a Laptop bag].
Max 2 pairs of clothes and a light jacket, as it could be chilly or a slight nip in the air.
Sleeping bag (if you do not have a sleeping bag, carry a light cotton bed sheet or a shawl. Any other kind of blanket will be heavy to carry).
2 litre hydra pouch or a 2 x 1 litre water bottle. Some chocolate or energy bars or nuts. Electoral or ORS mixed with your bottle of water.
Personal medication if any that you may require or take regularly
Carry a zip lock bag to keep your wallet and phone.
Floaters, extra socks, torchlight (carry extra batteries), insect repellant cream
Hat/cap, Sunglasses and Sunscreen.
Please do not carry any electronic gadgets like iPod or MP3 players.
Use your smart phone as a camera.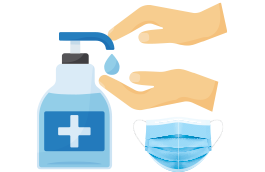 Please carry a sanitizer and masks as per COVID-19 protocols.
KINDLY NOTE: In your 30L day pack, all extra clothes and other stuff that you do not intend carrying during the walk can be kept in the tent/room. Make sure you have nothing valuable. DO NOT GET LARGE BAGS/SUITCASES.
Essentials you must carry on the day of the event
In your 10L or 15L Day Pack, you must carry water, a bottle of electoral or ORS or Enerzal, extra socks, micro-pore tapes, sunglasses, sunscreen, nuts or energy bars, your wallet, phone, torch and insect repellent cream.
Basics to keep in mind while walking
Walk straight. Never sit and climb down at slopes, as it will get more painful.
When tired, avoid sitting down on the trail. This will tighten your muscles and make it difficult for you start walking again.
Never gulp water when you halt to take a break. Take small sips instead.
It is not a good idea to sit as soon as you stop to take a break. Standing and resting is a better thing to do.
Whenever you feel uneasy, immediately inform your teammates so that things do not get out of hand.
It is not advisable to walk with earphones listening to music on the trail as it could be hazardous.
Do not litter and do not talk loudly.
Respect nature and the surrounding environment.