Partners
We are an official Fit India partner company with a vision to make 132 cr. Indians healthy. Through various initiatives, namely Fit India Active Sunday, we encourage people to get healthier under the guidance of Fit India certified GOQii coaches.
Certifications
GOQii is recognized by the Central Drugs and Standard Control Organization (CDSCO, Ministry of Health) as approved registered medical devices (GOQii-MUMBA-MH/M/MD/001104) and the International Organization for Standardization (ISO) for its services (certified under ISO 9001, ISO 13485:2016, ISO 27001).
PREVENTIVE

HEALTH
ECOSYSTEM
Get a combination of CDSCO registered medical smart tackers & devices, an intuitive GOQii App bundled with ISO certified health services which includes a care team of certified coaches, experts & doctors, health analysis through diagnostics & data, HRA, a health store and much more!
CONDITION
MANAGEMENT
Our healthcare programs combine a traditional approach with robust data analytics to help you manage chronic lifestyle diseases. Players have access to care teams consisting of a personal coach, a certified health expert and a doctor, along with existing features and services of GOQii's ecosystem.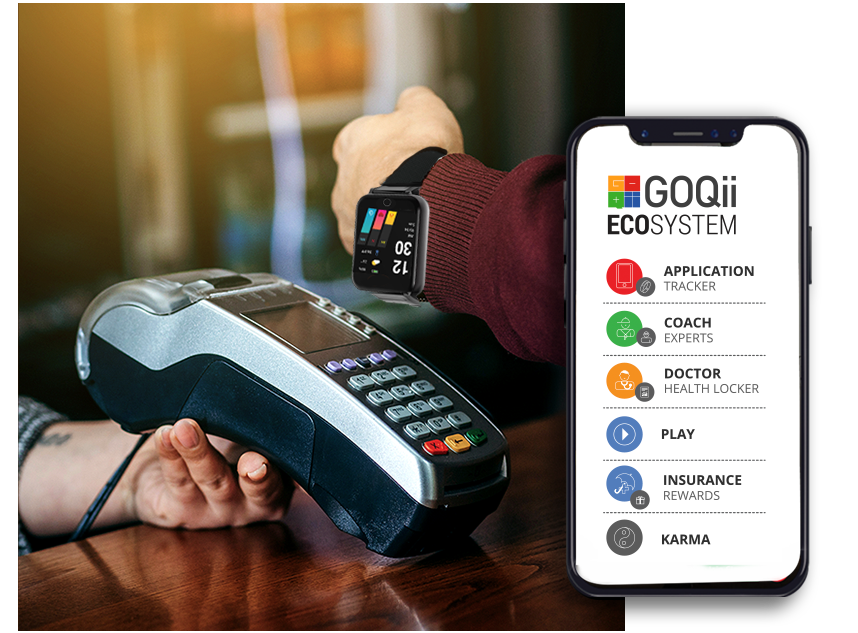 PAYMENT SOLUTIONS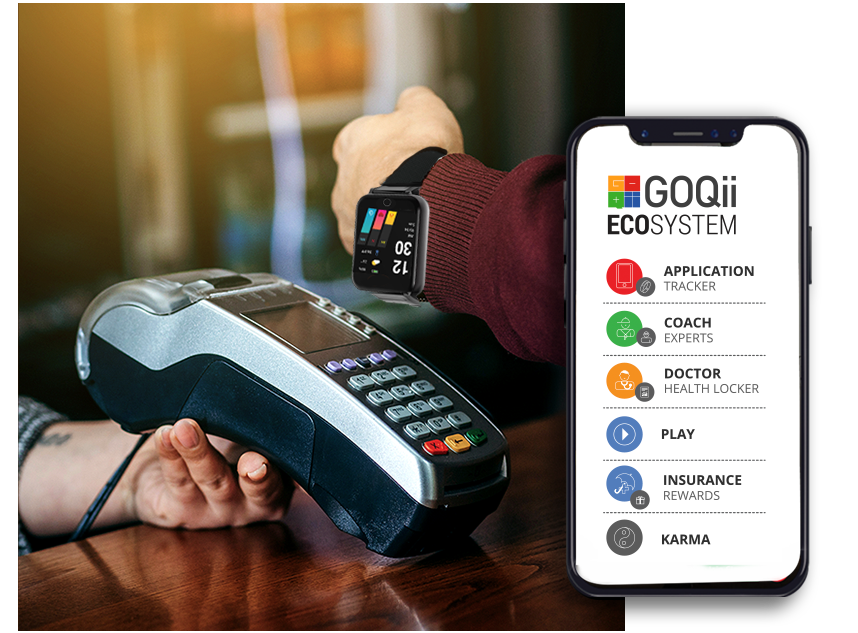 We have partnered with leading banking institutions to provide its customers contactless wearable payment solutions, integrated with our advanced health ecosystem which enables them to make cashless payments as well as monitor their health on the go.
INSURANCE SOLUTIONS
GOQii is the 1st preventive health company to partner with 5 different insurers for the IRDA Sandbox program to offer wearable solutions along with health services. This enables insurers to receive data driven health insights and a health score, through which they can offer customised solutions to its customers.
DATA
& DIAGONISTICS
Data is at the center of all the health and lifestyle recommendations, captured by a health tracker and our app. Additionally, we have tied up with diagnostic labs throughout the country which allow you to book tests directly via the GOQii app. Test results are directly sent to a Health Locker to be reviewed by the GOQii Coach and GOQii Doctor.
COACHING
& CARE
Our roster of dedicated coaches, experts & doctors will guide, motivate & empower you to make small but meaningful lifestyle changes. These include certified nutritionists, personal trainers and wellness experts who speak and nudge you towards achieving your health goals.
EXPLORE NOW
GOQii PLAY
A dedicated health OTT platform on exercises, nutrition, yoga, mental wellbeing & more conducted by certified Fit India coaches.
Interact with experts in real time on GOQii Pro for 1 on 1 personalized classes and get healthy the right way.
HEALTH STORE
An e-commerce store that a offers a variety of products & services across categories such as kitchen essentials, devices, diet & nutrition, diagnostic testing and more, curated by certified experts. Engage on the app to earn GOQii cash for exclusive discounts on the store!
WOMEN CARE
'WomenCare' is accessible to all female users and on select GOQii Smart Vital Devices, which enables women to track menstruation, pregnancy, predict menstrual cycles and more. This can be beneficial for those who want to keep a track of their next period or wish to get pregnant.
HEALTH ANALYSIS
Health Locker
Get unlimited cloud storage on the health locker to securely upload health records and test results, which you can share with your personal coach or doctor.

HRA & Health Score
Answer a series of questions from time to time on the GOQii app based on your diet, habits & lifestyle to get a better understanding of your health, which in turn will determine your health score.
GOQii ARENA
A social feature that lets you discover & interact with like-minded people. Chat with friends, explore challenges & view updates while you shift to a healthier lifestyle.
KARMA
Help others as you achieve your health goals. Earn 1 Karma Point for every 390 steps and donate to any social cause listed on the GOQii App.